Filipino Flash Card Instructions
« Back to Flash Cards
The Basics: Using This Site's Flash Card Program
Click on a flash card set to start studying.
The website will show you one side of the flash card. Translate (in your mind) the word shown from Filipino to English.
Click or tap the flash card to see the correct answer on the back side of the card.
If you got it right, click the "Correct" button. Otherwise, click the "Wrong" button.
While you're studying, the website will show your "Wrong" cards more often so you study more efficiently.
Be honest with yourself! You're only cheating yourself by answering "Correct" when you get one wrong.
Complete a flash card "round" by marking all the flash cards "Correct" 3x times.
After you have completed a flash card round, your progress will be saved. You must complete a full round in one session for your study time to be saved.
Completing a round on schedule earns you a star (see below).
Stars & Spaced Repetition Learning
This website tracks and encourages the spaced repetition technique for learning flash cards, which is one of the best ways to permanently learn new foreign language vocabulary words.
You earn stars by studying and completing a full round of a flash card set.
You can earn up to 5 stars per flash card set.
The 1st Star can be earned after completing your first round of a flash card set.
2nd Star can be earned 1 day after getting your first star by completing another round.
3rd Star can be earned 3 days after getting your second star the same way.
4th Star can be earned 10 days after getting your third star.
5th Star can be earned 21 days after getting your fourth star.
Your progress is only saved if you complete a full round of a flash card set in a single sitting.
Scheduling Alerts: At the appropriate time, the Flash Cards Home Page will automatically show you an alert when a set is due to be studied again to earn your next star, according to the space repetition schedule.
This feature is only available to registered members.
Flash Card Keyboard Shortcuts
If you're using a
Desktop or Laptop
computer, you can use
keyboard shortcuts
to make cycling through your Flash Cards faster and easier. This works on
most modern and up to date browsers.
It does not work for iPads/iPhones (tapping is easier on those devices anyway).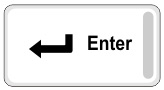 Enter/Return Key:
Flips a flash card over.
Left Arrow:
Marks a card as "Wrong".
Right Arrow:
Marks a card as "Right" (get it? right arrow = right answer!).
« Back to Flash Cards